Workshop view
Advanced Interest Rate Modelling (Part 2)
Improved Pricing Structure for The New Financial Year 2015/16: All Video Workshops £99.00
Video Lectures:
---
Managing Exotics: (Running Time: 1.01:14)
---
Practical Pricing of Exotics & Adjustors and risk migration: (Running Time: 1.24:07)
---
Pricing callable range notes (accrual options): (Running Time: 53:54)
---
Watch the above video for the Workshop Introduction. An additional six minute sample of this workshop is available here.
Each Quants Hub Workshop package includes the full day recorded video that when purchased will be stored in the "My Library" section of your members area to be viewed indefinitely. You will also receive the workshop slides and other related material if applicable.
---
Advanced Interest Rate Modelling (Part 2) by Pat Hagan
Presenter: Pat Hagan: Consultant & Mathematics Institute, Oxford University

Managing Exotics
Three elements to modern pricing: model, calibration, and evaluation
Choosing a model and the five main interest rate risks
HJM models - strengths, weaknesses, usage
BGM/LMM models - strengths, weaknesses, usage
Short rate models - strengths, weaknesses, usage
Markovian models - strengths, weaknesses, usage
Practical Pricing of Exotics
LGM model
Closed form zero coupon bond and swaption prices under the LGM model
Callable swaps (Bermudans)
Calibration strategies and the selection of calibration instruments
Forward volatility risk
How the risks, hedges, and values of the exotic depend on the calibration instruments
Adjustors and risk migration
Classic mis-hedging problem
Risk migration and the adjusted price
The adjusted price
Examples
Pricing callable range notes (accrual options)
Standard range note
Using replication to price the non-callable range notes. Convexity adjustments
Pricing requirements
Libor market model vs. external adjustors vs. internal adjustors
Using internal adjustors with the LGM modle
Pricing, risk analysis, and hedging the embedded and external options
General procedure for callables with embedded options
Published date
21 February 2014
Related workshops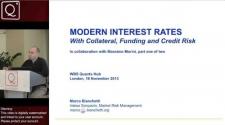 Marco Bianchetti
19 February 2014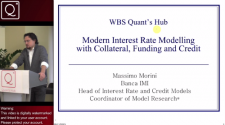 Massimo Morini
4 March 2014