Workshop view
Long Term Portfolio Simulation for CVA, Funding, Limits, and Capital
Improved Pricing Structure for The New Financial Year 2015/16: All Video Workshops £99.00

Watch the above video for the Workshop Introduction. An additional five-minute sample of this workshop is available here.
Each Quants Hub Workshop package includes the full day recorded video that when purchased will be stored in the "My Library" section of your members area to be viewed indefinitely. You will also receive the workshop slides and other related material if applicable.
---
Long Term Portfolio Simulation for CVA, Funding, Limits, and Capital
Presenter: Alexander Sokol: CEO and Head of Quant Research, CompatibL
The workshop will focus on the specifics of constructing and calibrating models for CVA/PFE which must simulate the evolution of a large number of risk factors for long time horizons and with incomplete calibration data. Both risk neutral and real world measure models will be covered with specific focus on avoiding extreme or unrealistic values of risk factors for long time horizons and dealing with incomplete or short dated calibration data.
Methodology Fundamentals

Introduction and Objectives
Real World or Risk Neutral?
Dealing with Long Simulation Horizons
Dealing with Heavily Multifactor Simulation
Margin Period of Risk (MPR)
General Wrong Way Risk (WWR)
Systemic Wrong Way Risk
Generic Rate and Asset Factors


Model Construction Techniques

Incremental Correlation
Bridge Correlation
Historical Correlation
Model Extension


Fast Valuation Techniques

Linear Trades
American Monte Carlo


Models

Popular Interest Rate Models
Popular Default Intensity Models
Popular FX and Asset Price Models
Risk Neutral Portfolio Model
Real World Portfolio Model
General Wrong Way Risk Model
Margin Period of Risk Model
Systemic Wrong Way Risk Model
Minimum Transfer Amount Model
Published date
7 March 2014
Related workshops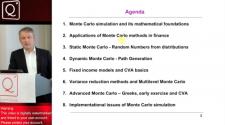 Jörg Kienitz
7 March 2014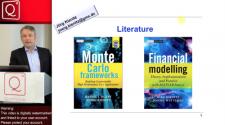 Jörg Kienitz
7 March 2014