Workshop view
FREE WEBINAR - Distributed Ledgers for Financial Markets
Distributed Ledgers for Financial Markets by Massimo Morini
Exploring the actual applicability of Distributed Ledger Technology
Analyzing Business Cases from a technical point of view
Banks, FMI, and Regulators: strategic choices
For a copy of the presentation slides, create a FREE Quants Hub account and add this Webinar to your Library.
---
About
These events have been built in collaboration with some of the world's leading banks, financial institutions and technology companies to ensure that the most pressing and pertinent issues are covered. Topics ranging across trading, fixed income, derivatives, syndicated loans and trade finance, identity and payments. Discussion for leading figures on both the business and technology sides of the global banking industry.
Topics: Distributed Ledgers in Financial Markets, Innovation in Capital Markets, Connecting Banking Environments to Distributed Ledgers, Smart Contracts, Decentralised Clearing Network, Decentralization in Financial Markets, Implementation Strategies, Distributed Ledger Regulations & Compliance….
Who will attend? CEOs, Chairmen, CTOs, CIOs, Managing Directors, Global Heads, Heads of Desks, Heads of Innovation and teams, Traders, Quants, Structurers, FinTech companies and more besides.
Benefits of attending:
Boost your contact list
The event will bring together the tech and financial worlds to create a framework for one to solve the needs of the other.
It will be a perfect place to network and do business with everyone you need, under one roof.
Keep up to date with this rapidly developing arm of the industry.
Join the debate
WBS Training are pleased to announce our latest dynamic conferences in the ever changing world of financial technology. The fee for London is £950.00 + UK VAT both days, £500 + UK VAT per day. The fee for New York City is $1100 both days and $600 per day. Limited places so book early.
Topic
XVA & Risk Management
Published date
24 September 2016
Related workshops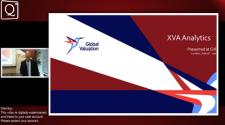 Claudio Albanese
16 June 2015